yesterday was our longest day of driving. in truth though, it wasn't too bad. good music, nerdist podcasts and pretty things to look at. we saw:
hawks. lots of them.
groundhogs.
a mailbox atop a telephone pole with a ladder up to it.
some vultures.
a few herds of deer crossing the road.
snowy moutains.
waterfalls.
i also saw the prettiest magic hour i've ever witnessed. we were near honey lake and EVERYTHING was glowing. unfortunately though, i was driving and there was no good place to pull off the road and take pictures.
actually, taking pictures was a challenge altogether. the mister had the driving frenzy because it was our longest day of driving. he wasn't understand my requests to stop. it was actually kind of funny. i was dying to get out and take pictures in the deschutes national forest. the light was shining through the dense, tall trees and creating these enchanting patches of light on the forest floor. i kept asking shawn to find a place to pull over and he kept passing them by. i couldn't figure it out. and then he finally went to pull over but we had climbed 4000 feet in elevation and i could no longer see those lovely patches of light on the forest floor - because we couldn't see the forest floor, only the tops of trees.
we did stop later in california. mosquitos descended upon me. shawn climbed some rocks. this was our view.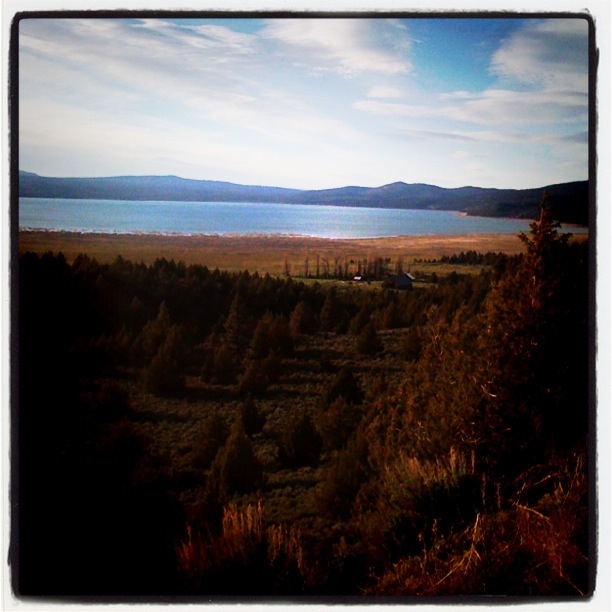 i did take some pictures with my actual camera but i left the cord for it in the car. i was in my pajamas when i realized and well, was just too tired.
our plan had been to drive to lake tahoe or carson city last night but we stopped at in-n-out burger in reno and it felt so good to not be in the car that we just decided to get a room here for the night.
today, 400 miles of driving in the desert and vegas baby, vegas.
for those wondering, monkey's doing great at home. our dog sitter gave her a bath and brushed her and i think she's probably already forgetten about us.
Posted in:
|
permalink
|
1 comment(s)