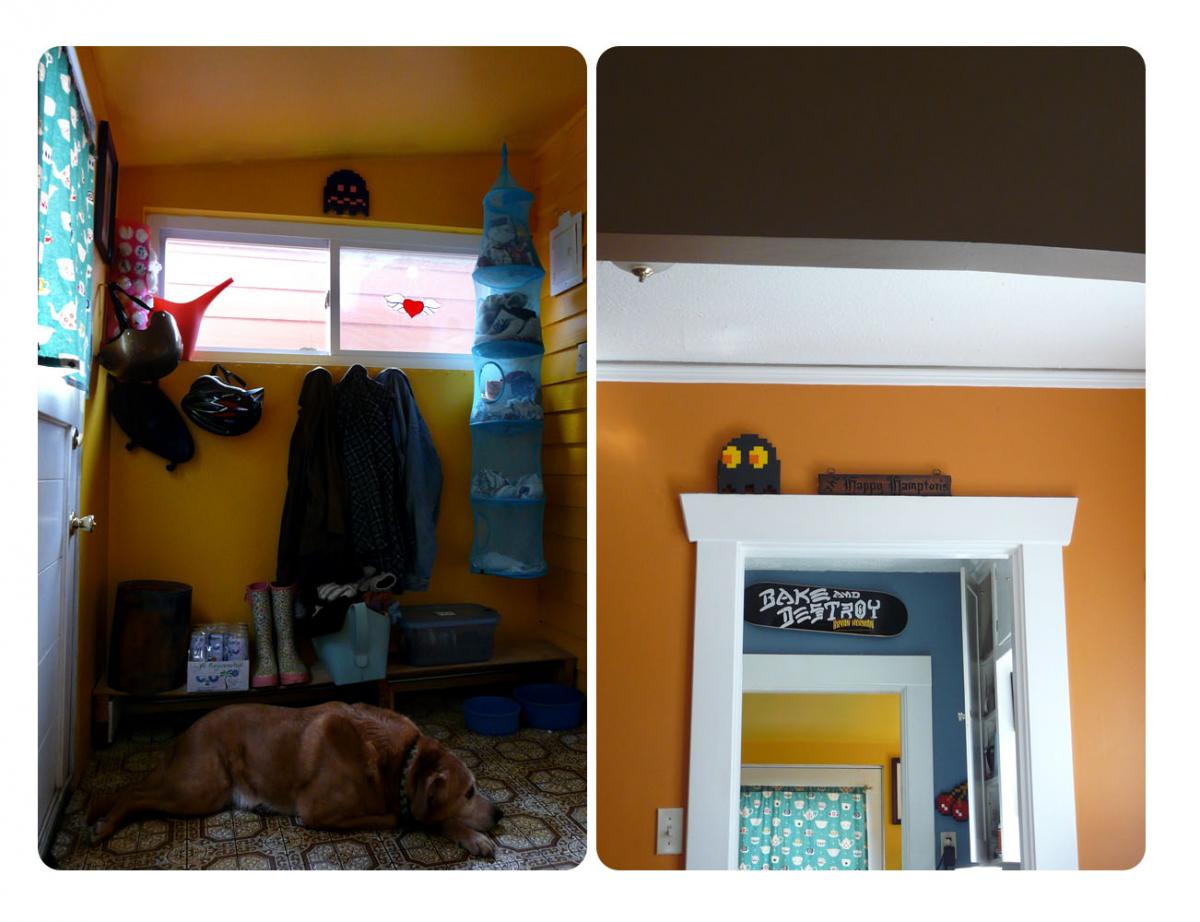 i have been wanting to paint the mud room in our house forever. it was this dreary powdery blue and the room was in desperate need of freshening up. the seventies linoleum tile is kind of ugly and kind of awesome. also, its a mud room. portland spring + that furry beast laying there = messy floor. there's a whole paw wiping ritual whenever she comes in. she finds the whole process distasteful and tries to wiggle away. the ugly seventies floor doesn't really show the evidence of these power struggles. nice.
one day this week, she actually darted right in between my legs and skid across the kitchen floor, leaving skid marks the entire length of the kitchen. the kitchen floor is sky blue. yeah. awesome, dog. good job. now when are you going to learn to mop? or empty the dishwasher? do anything other than look cute and smell like dog?
but i digress, i knew i wanted to paint the room yellow. it seemed like an easy enough task. its a tiny room. i would be able to get it done fairly quick, right?
so, shawn & i have this thing where we always underestimate how long home improvement projects are going to take. always. in our old house in chicago, there was the bathroom debacle. we were just swapping out the vanity and mirror and painting the room. there is no good reason that should've taken two weeks. then there was the sun room. we'd had the windows replaced and needed to paint the trim around the new windows. we no longer had the old trim color so we went to home depot. we were faced with a wall of paint chips and something went horribly awry. we are unclear on the the order of events and who said what. we decided to repaint the WHOLE ROOM. we were going to paint it red. instead of being the quick weekend project we thought it was, it took us the better part of a week, painting after late nights at work. yeah, that's a recipe for happiness and marital bliss. mind you, this room was at the very front of our house and was all windows. so, this story arc in the shana & shawn show had veiwers. some even brought lawn chairs and popcorn.
here i was. i'd done it again. who would've thought powder blue would be so hard to cover up. also, i hadn't realized until i started that the ceiling was also painted powder blue. yep. so, it took two and a half days. not terrible, not awesome.
what is awesome is the finished product. warm and glowy, even when its dark and grey out. plus, the view from the living room? pretty rad.
monkey's not sure what she thinks of it. whatever. she can register a formal complaint once she can repaint the room herself.
Posted in:
|
permalink
|
0 comment(s)