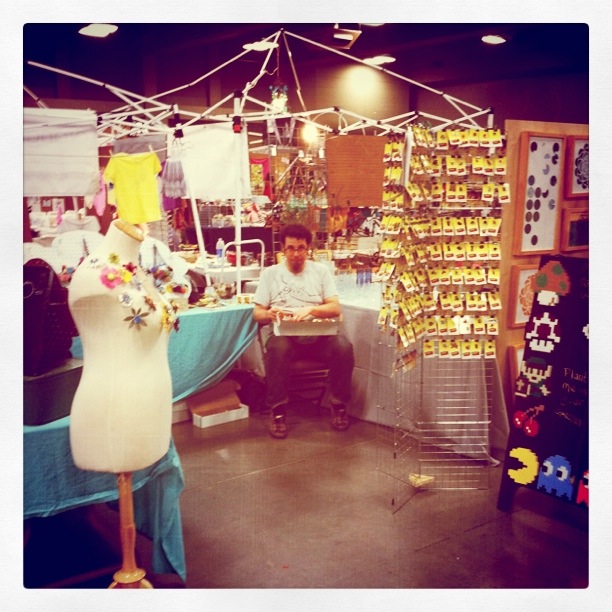 this guy's philosophy? if you can't beat them, join 'em. no, really.
i grew up at craft shows. while i didn't "do" my first craft show until 2003, my mom had been doing them for years and attending them for years before that. i was a good craft show helper but not a good craft show companion. being a craft show helper meant dollars in my pocket so while i might have preferred to be anywhere but there, there was an incentive. shopping at a craft show was another story. these were not renegade craft style craft shows. these were the geese and potpurri craft shows of the 80s and 90s. it was no good. i was a well behaved child but i was not happy. my overly dramatic sighs let everyone in my immediate vicinity know this was NOT where i wanted to be. and GOD FORBID my mom ask my opinion of anything she was considering buying. eyerolls and sneers, that's what she got. yeah, i was a fun kid.
i wanted to be reading. i wanted to be watching kung fu. i wanted to be at the movies with my friends. i wanted to be ANYWHERE but there.
and yes, my mom thinks its hilarious that i'm doing 3 shows in the next three weeks.
craft shows now are clearly different. with so many people making awesome things for kids, there's PLENTY for them to look at. most new craft shows also have activities for kids and grownups alike. i've only encountered an ill-behaved unhappy child at a craft show once in the past 8 years. he REALLY wanted a lollipop from kateri's booth. his dad told him to just ask for one. he didn't want to ask, he wanted his dad to get it for him. so, this little person went limp, fell to floor and stayed there, pouting. this kid was the clear exception. i LOVE kids at craft shows. kids freak out over everything shawn makes and its adorable. little girls look so excited when they realize that the mirror is there so they can TRY ON FASCINATORS. its fantastic.
i have, however, seen a number of grown-up craft show companions sulk while their friends and significant others browse. you know who i'm talking about. the buzz-kill who stands in the aisle, playing with their phones, counting ceiling tiles, fantastizing about being ANYWHERE but there.
we are busy people and this time of year sometimes we all have to go places and do things that aren't really at the top of our lists of favorite things. sometimes its the only way we can spend time with our friends and significant other is at an outing to a craft show. i get it. but i'd like to make a suggestion or two:
if you REALLY want to go to Urban Craft Uprising or Renegade this weekend and this isn't your significant other's cup o' tea, go by yourself. if your friend isn't really into handmade, meet them for coffee after the show. you will have more fun solo than if you're with someone who doesn't want to be there. at my last show, there was a woman who was on her own. her friend, who "doesn't get why handmade is cool" bailed on her last minute and she decided to come anyway. she was giddy. she said she was able to spend as much time as she wanted and didn't have to worry about anyone poo-pooing her shopping decisions.
if you REALLY don't want to go to a craft show this weekend but can't seem to get out of it, its not so bad. really, its not. people everywhere are making amazing things. really and truly. stop and take a look around. i challenge you to find at least one thing you really like. i'm betting you'll find more. and plus, you're making someone you love happy by being there. where's the bad in that?
Posted in:
|
permalink
|
0 comment(s)