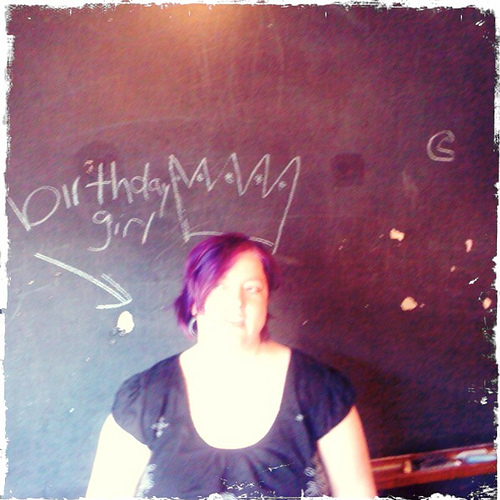 i used to make a lot of treasury lists on etsy, back in the day that treausry lists were a fun challenge. i had a group of favorite shops that i regularly picked items from and many of those talented people became my friends in real life. kateri is one of those people.
so, in early 2007, we began sending each other convos. at first they went like this:
kateri: "thanks for including me in your treasury list!"
me: "no! thank you for making such pretty things and taking such pretty pictures!"
then we started chatting. i liked her a lot. then, thanksgiving weekend of that year, i decided i wanted to learn more about kateri. i went to her blog and read a bit. i then clicked on her profile and it was all over. here's what happened in my head: "how had i not noticed she lives in chicago before now? and wait, wait, there's a mention of columbo! the moviegoer is one of her favorite books?! we need to be friends in real life. NEED." so, i invited her out for coffee. she declined. maybe two or three times. i may or may not be exagerrating. i honestly don't remember.
but in january of 2008, on a cold, snowy saturday morning, we met at a cafe in lincoln sqaure for coffee. i think it took a month or so for us to hang out again. lucy was dying, i had the flu for what felt like two months and i think kateri was still wary. we both used to be very new people challenged but at least the ice was broken.
fun fact: kateri made it abundantly clear to me early on that she was not a phone person, that she did not like talking on the phone. so, we texted a lot but as lucy's health rapidly declined i needed to talk and she was there. she listened to me cry for hours. we continued to talk on the phone. a lot. even more once shawn & i left for portland.
eventually, kateri became a shampton. we spent almost every saturday night at our house. shawn would cook a feast, i would bake something, we would watch bad movies and make beautiful things. we would meet for a drink after work if we'd had a bad day. we would go see movies and sometimes spend the entire day at the theater. we would drive to the ends of the earth on occasion in search of old sparkly things. she even braved a garofalo/hampton christmas. that's a real friend - and a true shampton.
tomorrow is her birthday. i'm really excited for her. she's had a huge year. she's faced a ton of challenges head on, with grace, when most other people would've had tantrums. she's still facing some. in a few months, she's shipping herself and all her belongings to portland. moving to portland because we had an offhand conversation that ended with "what about portland? if you moved to portland i'd follow." its going to be another big year. i can't wait to see what's going to happen.
Posted in:
|
permalink
|
2 comment(s)