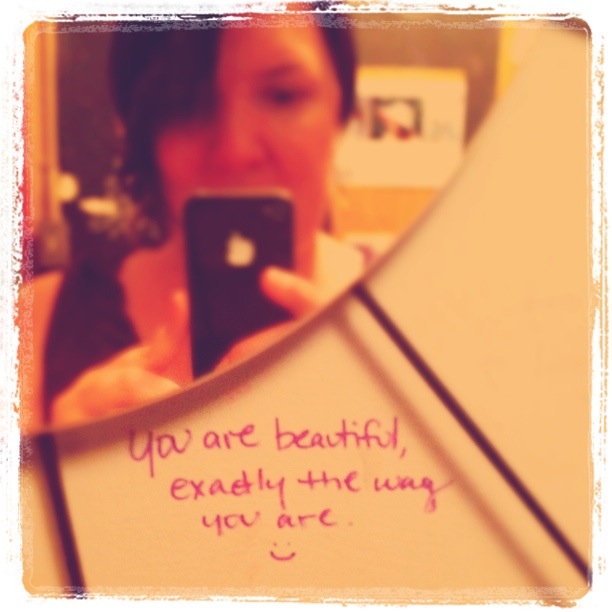 i found myself in the dressing room at target today and i didn't hate it. most people wouldn't find this noteworthy but it is, in fact, a really big deal. to me.
i am a clotheshorse. or at least i was. i have a closet that is bursting at its seams and i don't wear most of it. many items are too big. some i've held onto hoping i'd find the time to alter them, others i just can't let go of. there's a black and white dress that i bought before my second to last rosh hashanah at the synagogue. i bought it hoping it would serve as armor, hoping that it would ward off inevitable drama. it was over $300 and it didn't work. i still really love that dress.
that was back in the days of disposable income and frequent retail therapy. i occasional went out on lunch breaks and bought shoes. i often stopped on my way home on fridays and bought a new skirt for monday. maybe a new skirt would fix everything. it never, ever did. i was also gaining weight. food brought comfort in a way that shopping didn't. that made shopping more difficult - a tight zipper here, a size increase there...
so i would never try things on in the store. ever. because if i tried something on and it didn't fit, i would feel worse than i did before i walked into the store and my self esteem had already taken enough of a beating at work.
i think i always knew this but today i saw a cute blouse at target and thought, "i really like that but... what the hell size am i?" next thing i knew, i had five things in my arms as i headed into the dressing room. i knew i wasn't going to buy it all but i was curious and if i was going to get half naked for one shirt, why not? while i was trying 2 dresses, 2 blouses and a skirt on it hit me. i was looking at myself in the mirror and not hating what i saw. not even a little. it had been a really long fucking time since i'd stood in a dressing room, with their unflattering lights and mirror angles and looked myself in the eye. it wasn't awful. the skirt was awesome but too big and they didn't have my size. the dresses and shirts all fit but aren't quite my style these days. i returned it all to the racks.
i may not have a new skirt but i totally win today.
Posted in:
|
permalink
|
3 comment(s)