growing up, i spent a lot of night sitting in our screened in porch with my mom. she worked nights so most nights so most of the year she went to bed before dark. i'm not sure why but all bets were off during the summer. there was a park nearby that had free concerts during the summer and we could hear them from our house. we would sit, usually in our pajamas, reading and listening to the music or the cicadas. i learned two valuable lessons those nights: #1 - just sitting and reading with someone is a totally enjoyable way to spend time with someone; #2 - there is nothing better than a comfortable porch.
last year, we travelled so much during the summer that i didn't give our porch much thought. this spring i decided that i was going to enjoy the crap out of our front porch this summer. that was going to require a bit of work on my part.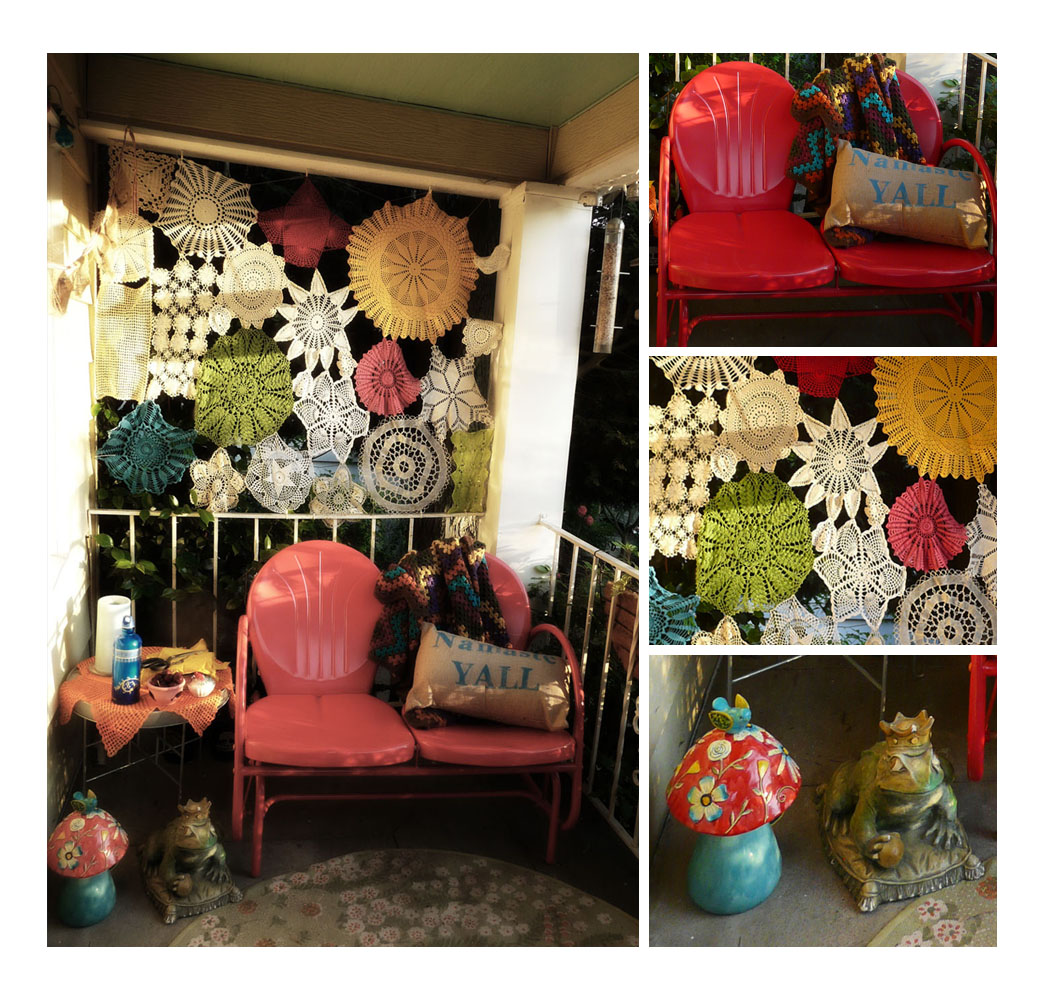 mom actually bought us the glider last year when we moved. we painted the porch ceiling sky blue about the same time. i knew someday this porch and i were going to spend some quality time together. we had the little table. i picked up the weird little mushroom at an antique store for $8 recently. i stole the frog from my parents. my mom made the blanket. the namaste y'all pillow came from my very talented friend, kerry. the rug was on clearance at urban outfitters. i love how easily everything came together.
there's still a couple of things i want to make for the porch - a floor pouf to use as an extra seat and a coffee table/stool made from a vintage suitcase. they both seem like a breeze in comparison to the doily screen.
it was a project i've had bouncing around my head for ages. i've been hoarding collecting doilies forever so this seemed like a perfect plan. i measured the space and then started to lay out doilies, pinning and stitching as i went. then, when it felt like it was almost the right size, shawn helped me hang and stretch it. i added a few more doilies to fill in some spots and i need to add a few more but overall, i think it looks great.
we've spent the last few nights hanging out on the porch - sewing, reading, enjoying cocktails and listening to records. shawn launched a website from the porch last night. i'm pretty sure that's where you'll find me tonight. pretty much perfect.
Posted in:
|
permalink
|
5 comment(s)